At NRF 2018, Aila will be demonstrating a suite of iOS-based kiosks and mobile devices for retail and grocery that streamline in-store operations and provide engaging, high-value interactions for consumers.
Coupling sleek, attractive form factors with Aila's proprietary TrueScan™ technology—the industry's best integrated scanning capabilities—Aila devices will outperform most existing point solutions, from price checkers, self-service ordering kiosks and point-of-sale terminals to handheld barcode scanners and associate devices for assisted selling and clienteling.
Although they function flawlessly in discrete use cases, Aila's powerful, multifunctional hardware solutions can also by synced together to enable seamless connected digital experiences throughout the physical store.
Be sure to stop by booth #360 at NRF. Our leadership team will be there, along with our latest products and can't-miss demos for retail and grocery.
Our Products
INTERACTIVE KIOSK
Compatible with the latest 9.7-inch and 12.9-inch iPad and iPad Pro models, Aila's Interactive Kiosk is a sleek, secure customer-facing device that can deliver engaging experiences throughout the store. Powered by TrueScan™ scanning technology and a large, responsive touch screen display, the Interactive Kiosk is upgradable with mPOS attachments and an ID tray for simplified ID scanning, as well as floor stand, table stand, and wall mounting options. Learn more.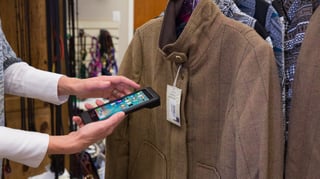 Mobile Imager
Aila's handheld Mobile Imager for iPod Touch 6, iPhone 6s and iPad mini adds industrial-grade durability and enterprise-ready scanning capabilities to the already-powerful devices. The sleekest form factor on the market facilitates true one-handed scanning, while haptic and auditory feedback allows associates to work quickly and efficiently. Learn more.
Aila's TrueScan™ Technology
Aila's Interactive Kiosk and Mobile Imager feature Aila's propriety TrueScan™ scanning software. TrueScan enhances the image capture capabilities of the native camera on iOS devices for faster focusing, faster image capture, auditory feedback, and, for the Mobile Imager, haptic feedback. TrueScan enables Aila devices to quickly and flawlessly read all current symbologies, including 1D & 2D barcodes, Digimarc barcodes, QR codes, ID cards and more.
Aila for Retail
In retail, Aila hardware enables rich in-store experiences that can enhance a variety of core retail functions. At NRF, Aila will be presenting a selection of those, including:
Loyalty check-in & ID scanning
Personalized product recommendations & custom promotions
Look-up of detailed product information such as available sizes and colors, location in-store, product reviews, and more
Point-of-sale transactions: product scanning, personalized rewards/couponing, and payment processing
In-aisle ordering, buy online and pickup in-store, endless aisle browsing
Fitting room experiences: checking available sizes and colors, product pairing recommendations, requesting additional items from associates, and more
At NRF 2018 you'll have an opportunity to see our Interactive Kiosks and Mobile Imagers in action.
Aila for Grocery
Aila's hardware solutions for grocery infuse the supermarket with engaging in-aisle digital capabilities and experiences. At NRF, Aila will be demonstrating:
Enhanced price checking, with detailed product information and personalized product recommendations
Loyalty check-in, with personalized coupons and offers
Smarter in-store ordering systems for the deli and bakery, reducing customer wait time and increasing associate efficiency
How to reduce shrinking through variable pricing with Digimarc barcodes
Stop by to see our grocery experience!
About Aila
Aila makes smart iOS-based devices that outperform traditional enterprise hardware solutions throughout the store. Aila's proprietary technology transforms Apple's familiar mobile products—iPads, iPhones and iPods—into powerful enterprise-ready kiosks and mobile devices by combining industry-leading integrated scanning technology with sleek, store-ready design. Aila devices enable improvements to an array of core in-store operations, from price checking and custom ordering to point-of-sale transactions, allowing retailers to deploy streamlined workflows and more engaging customer experiences.
Can't wait until NRF 2018? Check out OUR DELI case study today!